After the Florentine success, Bevande Futuriste has the pleasure to be the main sponsor of the first edition of the Venice Cocktail Week, from December 13th to 19th 2021.
A whole week of events, meetings and masterclasses involving all the best bars and hotels in Venice.
With the participation of talian and international guests, among which:
- Samuele Ambrosi, founder Cloakroom Cocktail Lab & Cloak Studios (Treviso), e massimo esperto di Gin Tonic
- Diego Melorio, owner Quanto Basta (Lecce)
- Tommy Colonna, founder Benni from Gambrinus
- Roberto Pellegrini, teacher and trainer at Accademia delle Professioni
- Giorgio Fadda, President IBA
- Walter Bolzonella, Bar Manager Belmond Hotel Cipriani
- Oscar Cavallera, Food & Beverage Advisor
- Angelo Donnaloia, President AIBES
Names that have made the history of fine drinking in Venice, and many more prestigious guests.

Tommy Colonna, Benni From Gambrinus
The presentation event of the new Prohibito Express begins with Prohibito Express: a journey from Puglia to Paris via Venice, in the fascinating setting of Palazzo Experimental, c/o Fondamenta Zattere Al Ponte Lungo, 1411.
The Made in Puglia aperitif and dinner saw the Puglian barmen Tommy Colonna, owner of Benni from Gambrinus (Gravina) and Diego Melorio, founder of Quanto Basta (Lecce), delighting the guests with a Prohibito signature drink list and a special menu.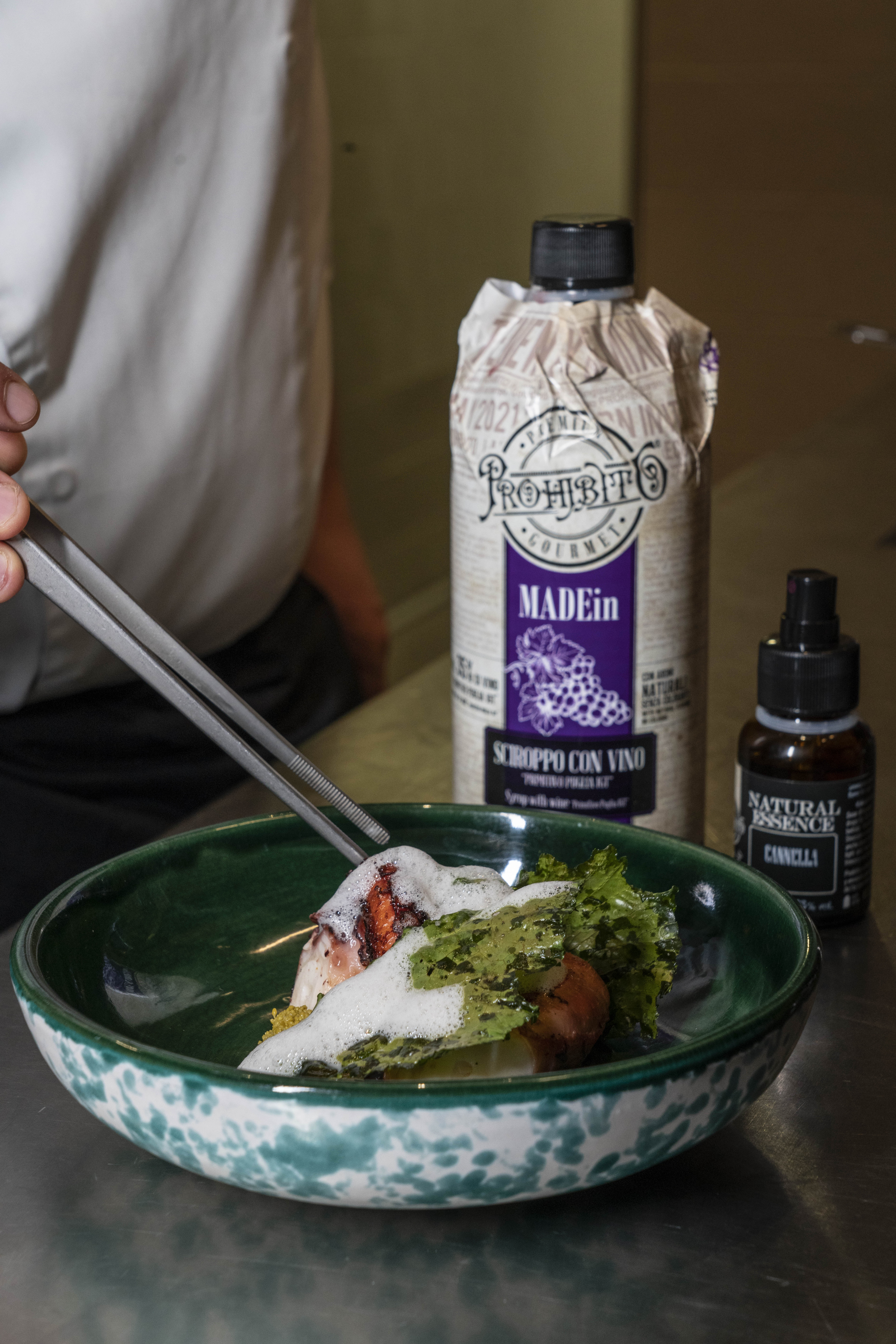 In the charming atmosphere of Palazzo Experimental, the event is followed by an afterdinner with Samuele Ambrosi Lorenzo Di Cola, Bar Manager at Palazzo Experimental, and a Paris-inspired drink selection specially crafted with Scortese Organic Pure Tonic .
SCORTESE Organic Pure Tonic is the result of a research carried out by our bartenders in the field of gin. Its botanicals endow this product with a strong, complex personality: thyme, lemon, natural quinine essence, lemongrass and cardamom are the protagonists of its intense bitterness; whereas green tea provides balance and softness to its palate.

Samuele Ambrosi, Cloakroom Cocktail Lab & Cloak Studios
On Thursday, December 16th 2021, the presentation of Prohibito continues at the Caravellino, c/o Calle Larga San Marco, with the company of Gianluca Fraccascia, Prohibito Brand Ambassador, Samantha Migani, expert in Tiki mixing and owner of Hawaiki Paradise Tiki bar in Igea Marina, and Samuele Ambrosi, creator of the Prohibito Tiki Batter.

Prohibito presentation at the Caravellino, Venice
The presentation is followed by the exchange between professionals on te history of bars in Venice #esperienzeveneziane #ierioggidomani: a roundtable sponsored by AIBES and hosted by Roberto Pellegrini, Master of Ceremony, and Samuele Ambrosi, AIBES Vice-President, at the Excess Venice Boutique Hotel, c/o Fondamenta S. Sebastiano, 2542. Among the guests:
● Angelo Donnaloia, President AIBES
● Walter Bolzonella, Bar manager Belmond Hotel Cipriani (Venezia)
● Gennaro Florio, Bar manager Taverna La Fenice (Venezia)
● Marino Lucchetti, Head bartender Londra Palace (Venezia)
● Cristiano Luciani, Head bartender The Gritti Palace
● Giorgio Fadda, President IBA
● Oscar Cavallera, Food&Manager Advisor
A week full of events which has seen Bevande Futuriste involved in numerous initiatives in support of bartenders; a first edition marked by important meeting and sharing occasions.