THE DRINK

Wisely reinterpreting the classic and timeless version of the famous "Whisky and Soda", Luca Manni, barmanager at the "Move On" in Florence, starts from the sweetness of bourbon, and then wraps it with the depth of a peated scotch.
The very Italian "Scortese Pura Tonica", by Cortese Premium Mixology, contributes to achieving the perfect gustatory balance in the drink, thanks to its natural aromas, enriched with green tea and selected botanicals, and quinine, extracted directly from cinchona bark.
A strong and surprising flavor, enhanced by the scent of dill and the plantain leaf that garnish it.
BARTENDER: Luca Manni, bar manager "Move On" - Firenze
INGREDIENTS

2.5cl bourbon whisky
2,5cl scotch whisky
Lemon zest
Top by Scortese Pure Tonic
Glass: Highball alto
Garnish: dill tip and plantain leaf
PREPARATION
Cool a tall highball glass, drain the excess water, pour the two whiskies, the bourbon and the scotch, squeeze a lemon zest on the rim of the glass and top up, gently pouring in the Scortese Pura Tonica. Decorate by placing a fragrant tip of dill and a plantain leaf on top of the drink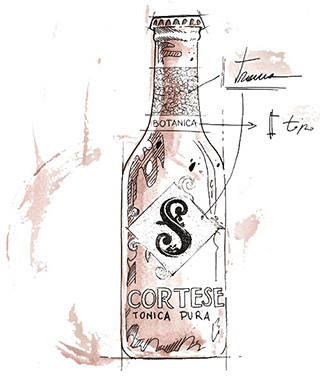 Source: