Pure, strong light. All variations of Cortese Tonic Water, refreshing, sparkling and genuine for a refreshing and passionate pleasure
Bevande Futuriste was born in Treviso on May 7, 2014 and immediately became an avant-garde company in the field of premium soft drinks making in a short time their range Cortese among the most famous and appreciated drinks made in Italy. Attention to every detail: quality, taste, packaging; nothing is left to chance in this feminine brand that has made the love for beauty and good its flag. The name is inspired by Isabella Cortese, a noble Venetian and alchemist who lived in the sixteenth century, but it is also a name that evokes the values of gentle and chivalrous ways, perfect for products that are a praise to women and also a healthy way of drinking and living life.
Among the many excellent products of Futurist Drinks, we chose to tell you about the three tonics Cortese because they are a safe choice for combinations with each gin. Together with the tonics we also offer some mixing tips with cocktails designed for romantic and passionate evenings. The hedonism of Cortese is what you need to give the breakthrough to mixing and also for a refreshing pleasure, accentuated by the elegance of the labels and the tickling bubbles of the drinks.
CORTESE PURE TONIC
Cortese Pure Tonic is the first product in the Cortese range launched by Bevande Futuriste. A tonic with a strong femininity, balanced, very sparkling and moderate bitter sensations. It's pure because it contains only natural and quality ingredients: water, mineral salts, sugar and quinine.
Cocktail: Light Martini Twist by ilGin.it
Ingredients:
1 part gin
1 part white Vermouth (dry or sweet depending on your taste)
1 part of Cortese Light Tonic
Tecnica: build on ice.
Fill a large tumbler with ice cubes and pour in the gin, Vermouth and Cortese Light Tonic. Mix gently and decorate it with a twist of lemon peel
.
(L'Amor Cortese di Ambrogio Fazio)
CORTESE LIGHT TONIC
Cortese Light Tonic is so called, light, because it has little sugar and the delicate recipe makes it very versatile in the most elaborate cocktails. Notes of lemon and a pinch of salt make it perfectly refreshing as well as light and natural.
Cocktail: L'Amor Cortese by Ambrogio Fazio:
Ingredients:
4 cl of dry gin
2 cl of orange liqueur
1 cl of fresh lime juice
Raspberries
Light Tonic Cortese
Vapo of rose water
Technique: Shake and strain.
Assemble together gin, liqueur, lime juice and 4-5 raspberries, pressing them lightly. Add ice and shake. Pour into the glass and complete with Cortese Light Tonic fill up. Mix gently, spray with rose water and decorate it with a fresh raspberry skewer.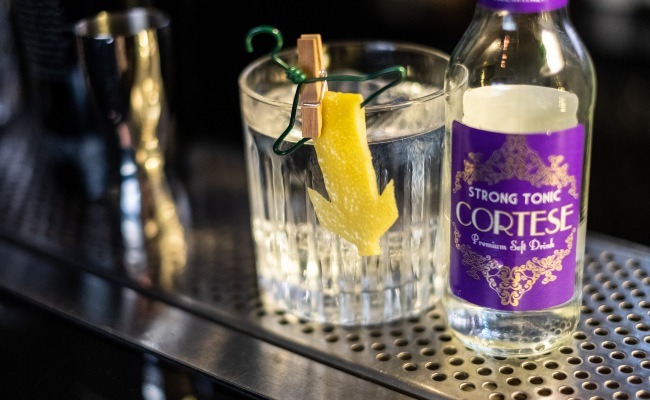 CORTESE STRONG TONIC
Cortese Strong Tonic is so called, strong, because it has a strong character given by the addition of chili and a higher concentration of quinine. Sparkling, thirst-quenching and with that extra touch, perfect for igniting passion whether you like it alone or in Gin Tonic and cocktails.
Cocktail: Strong Lemon by ilGin.it
Ingredients
1 part of Gin
1 part of lemon juice
½ Part of Limoncello
½ Part of simple syrup
Foglie Basilico
Cortese Strong Tonic
Technique: Shake and strain.
Fill the shaker with ice cubes and add gin, lemon juice, limoncello, simple syrup and a couple of basil leaves. Shake and filter into a Highball glass filled with ice. Complete with a top of Cortese Strong Tonic and decorate it with a few leaves of basil.
Source: