Patrizia Bevilacqua, 34, born in Naples and has lived in Milan for 7 years. Graduated at the Academy of Fine Arts in scenography and photography, but from a very young age she has a passion for mixology, it's 4 years and she is currently working at Bevande Futuriste company as Brand Event Manager in central Northern Italy.
Hi Patrizia, can you tell us where your passion for bartending comes from?
It all started thanks to my father, who is a former head barman, currently working in the hotel school in Naples. I grew up in a stimulating environment, between art and bartending. At home I also have a bar, built by my father, in fact. Since I was a child I enjoyed making cocktails, always under his supervision and from there the passion was born. My father helped me understand the value of money by bringing me to work with him at an early age and at the same time always following school until my second degree.
Tell us about your past experiences and what they left you?
I feel satisfied and happy with my past. No one has helped me in my journey, it has been hard but when you reach your set and desired goals you are even happier!Ho cominciato come Hostess di Sala con S.I.R.E. Ricevimenti Leader in Italia nei settori della ristorazione e del banqueting, per poi proseguire nei bar e Alberghi come il Marriott Renaissance  di Napoli.
I started as a Room Hostess with S.I.R.E. Receptions Leader in Italy in the catering and banqueting sectors, to then continue in bars and hotels such as the Marriott Renaissance in Naples.Attualmente lavoro da 4 anni nell'azienda Bevande Futuriste come Brand Event Manager centro Nord Italia. Various working seasons from Sardinia to Formentera, up to my beautiful Milan with Expo 2015 Martini Terrace, one of the most constructive experiences of my life.
Currently I have been working for 4 years in the Bevande Futuriste company as Brand Event Manager in central Northern Italy.
SYou have been nominated in the Brand Ambassador Spirit section of the BarAwards 2020 and in the Barman of the Year section of the Italia a Tavola award, did you expect this recognition in the prestigious short list?
It's a difficult time for everyone. And it's nice to support the many categories in the competition, on these two occasions, it helps to promote and enhance our sector.
I am in the category:
SPIRITS BRAND AMBASSADOR OF THE YEAR with Bargionale editorial team
And in category:
BARMAN OF THE YEAR with Italia a Tavola.
The reason I'm in these sections is probably because of my journey in these long 15 years of presence in the sector.
I have made myself known in all these years through 57 competitions (World Class semi-final in southern Italy, Lady Drink 2014 winner and many others). Cocktail competitions are used to make themselves known and to get to know the companies.
What does it mean to work as a brand event manager and specifically what do you do for Bevande Futuriste?
I follow the Marketing part together with my Owner Elena Ceschelli and Ilaria Cocco, my colleague from central and southern Italy. It is a stimulating job that leads to travel and serves to make the Brand known in all its forms. Specifically, we create events and everything concerning fair, events and communicating the brand in the best possible way.
How did one of your flagships, the Neapolitan American, come about?
One of my fortes is called Americano Napoletano, very simple to make, with red Martini, which represents Turin and the company I worked for and respect; Campari – which represents Milan, the city I love; Borghetti coffee and Frangelico hazelnut liqueur, reminiscent of the Caffè del Professore in Naples; and finally a top of Cortese Pure Tonica. It is present in various drink lists of places such as:
Savini in Galleria Milano, Cube Milano Brera, El Pecà Milano and others…
What can help you understand the tastes and preferences of a new customer to create a tailor-made drink?
The secret of a perfect cocktail is simplicity. Simple things always win. When you have been working in the sector for years, very few exchanges of words with the customer are enough. Welcoming a customer sometimes does much more than serving a perfect drink. Always listen to the customer and never talk about the three S's (health, sex and money)
Three essential things to be a barlady?
Definitely following a scholastic path, for example a hotel diploma, participating a master classes to keep up to date, reading a lot and with all the technology available on the internet that we have today, future bartenders can really indulge themselves.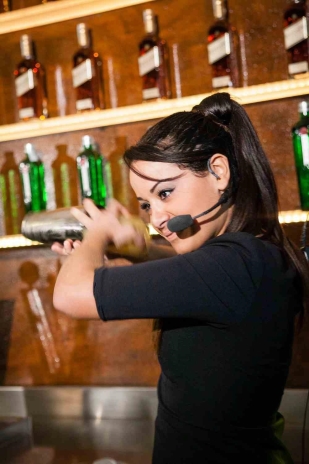 Which mixing technique do you prefer?
Build and shaker
And which is the distillate you prefer to mix?
I prefer dry drinking and preferably Italian. Definitely Vermouth and red Bitter.
But how much space does creativity have in your work?
Having graduated at the Academy of Fine Arts I like to create installations on drinks as in the photo attached.
What is your favorite cocktail and which one do you prefer to make?
My favourite drinks are Martini Cocktail, Americano and Gin Tonic of course Cortese !
What do you think is the secret to a perfect cocktail? 
There is no perfect cocktail there is the perfect time to drink. I am convinced that the more we grow, the closer our body and mind come to different tastes.
In your opinion, what can not be missing in a bar, in terms of service, attention?
The hospitality is the mistress, it does not matter to have a bar to the nines, sometimes it only serves so much smile and customer care!
Any plans for the future?
Obviously being superstitious and good Neapolitan I can't say anything, surely I am Futurist and I always want to evolve my life, because those who don't aren't human!
Source: